Following are details about Happy's time during your your Easter party. Additional details will be described upon confirming your reservation.
When Happy arrives he can gather gifts you've provided and bring them to the location of your Egg Hunt. There he will be hiding Easter treats if you choose to have him participate.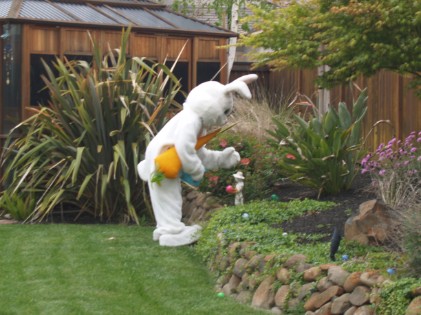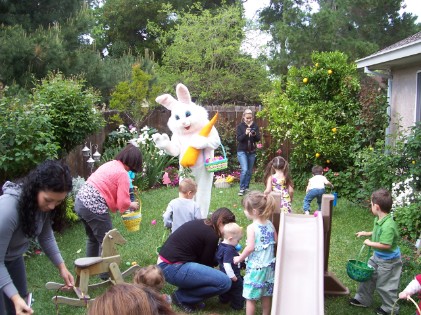 Happy will be hiding Easter treats, creating a great entry point for onlooking family and friends to discover Happy at your celebration. Then, excitement begins. Kids run out to gather hidden treats . While older kids run for the treasures, some may run to Happy and steal a hug and a kiss. Smaller kids may be shy and "cling" to adults till they figure out Happy is a friendly bunny with treats to share.
As your egg hunt winds down Happy will begin to deliver gifts. Every basket delivery creates a great photo opportunity for each child. Just before Happy leaves there is one last opportunity for family group photos and then Happy is off to his next visit.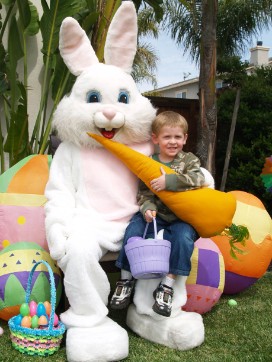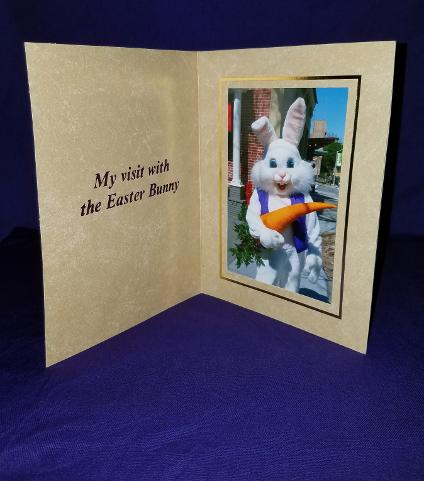 Pictured above is our Instant Digital Keepsake. A 4" X 6" photo we capture and print while perfoming at your party and place in a professional 5" X 7" folio card. Inquire about pre-purchasing Keepsakes and saving 23%. Also makes a great party favor to send home with your guests. Additionally, we offer Professional Photography Packages.