During larger events guests will stand in line to have photos captured. Long lines are daunting to both children and parents causing guests to be uneasy. With our NEW efficient equipment long wait times for keepsakes are
CONSIDERABLY REDUCED.
Our new dye sublimation printer is designed to print 4 X 6 images as
quickly as 5 seconds. This allows us to quickly move thru long lines and to provide guests with a quality Keepsake quicker.
Read more about it below.
DS-RX1HS Dye Sublimation Printer from DNP
In recent months we added a brand new DS-RX Dye Sublimation Printer to our photographic arsenal of tools. Creating a wonderful event printing station with the upgraded DS-RX1HS Dye Sublimation Printer from DNP. Capable of delivering (290) 4" x 6" photos in an hour, this is an ideal option for high-volume printing scenarios. The dye sublimation thermal transfer method enables these high speeds while also permitting a high resolution of 300 x 600 dpi. Also, the full color ribbons feature an overcoat to keep images protected and allow for selection of either glossy or matte finish. It produces 4 x 6" or 6 x 8" prints, as well as 2 x 6" in 2-up or 4-up configurations.
More information about larger orders
Our INSTANT Keepsake Favor
$17.50 each
(When prepaying for 1 - 24 Keepsakes)
(1) 4" X 6" Portrait photo image
Displayed in a 5" X 7" professionally
designed, folded card imprinted with purple foil.
"My Visit with The Easter Bunny"
Available immediately at your Celebration.
Makes a great party favor for your guests.
SAVE 15% - 40% when pre-purchasing
.
Advanced ordering and full payment
required.

1) When prepaying for 25 - 49 images the cost is reduced
15% from $17.50 to $14.99 each.

2) When prepaying for 50 - 99 Keepsakes the cost is
reduced by 25%, from $17.50 to $13.12 each.

3) When prepaying for 100+ Keepsakes the cost per Keepsake is reduced 40% (our largest discount). Reducing cost from $17.50 to $ 10.50 each.
We can also order customized phrases on Keepsakes for your celebration. As many as four lines with 30 characters per line. We can also include your company logo.
This fee based customization feature is only allowed on orders placed prior to April first with a minimum of two weeks prior to any appointment and as our
printers schedule allows.
Contact us for further details or to begin your reservation.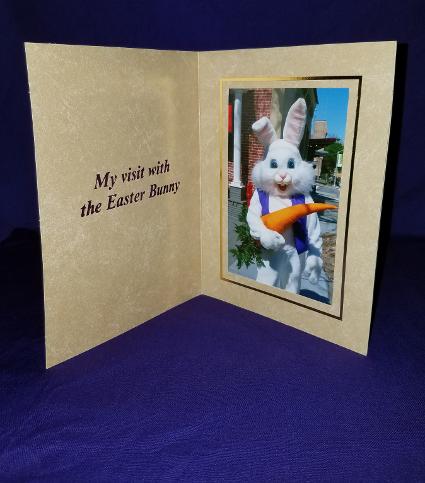 When ordering larger Keepsake quantities (25+) additional benefits are available. We will include the Easter Bunny's bench A festive Holiday backdrop and professional photography lighting at NO ADDITIONAL CHARGE to create the perfect image capturing environment at your celebration.
Ask us how YOU can choose your backdrop.
Clients can also order the Easter Bunny's bench and backdrops allowing guests
to capture images using
their own cell phones.
Our Easter Bunny's bench compliments your Keepsakes and can
be included in your reservation for a fifty dollar fee
OR for FREE when pre-purchasing
25 Keepsake images or more.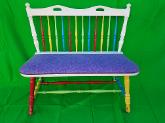 Here are backdrops we have available in 2020. Which can be included in your reservation for a one-hundred fifty
dollar
rental fee OR for
FREE when
ordering 25 keepsakes or more.
Click an image for a larger view.
Backdrop A Backdrop B Backdrop C
Images of your guests are important to us.
That's why we take pride in using CANON equipment.
Our electronic equipment includes TAMRON brand lenses.
Providing crisp clear images in every photo we capture.
Our photographic electronic equipment arsenal includes AlienBees™ flash units which provides powerful portable studio ease, with fast, accurate and versatile
shadow free lighting. Included FREE with your reservation when ordering 25 keepsakes or more.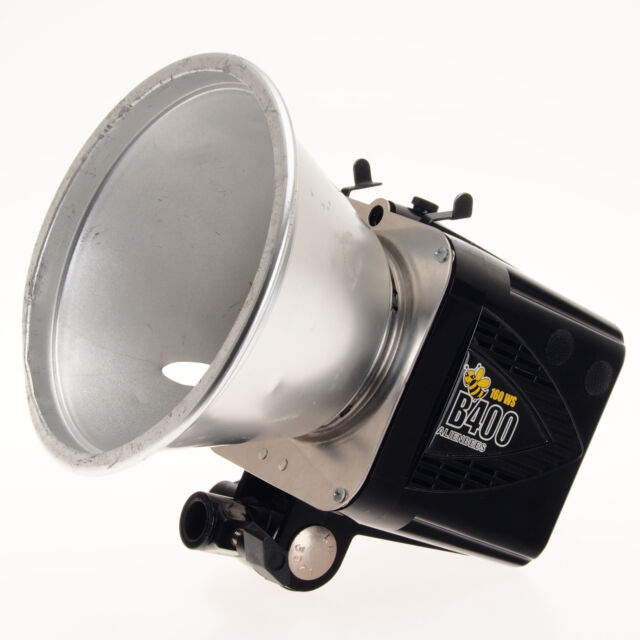 copyright ©2007-2022 All Rights Reserved